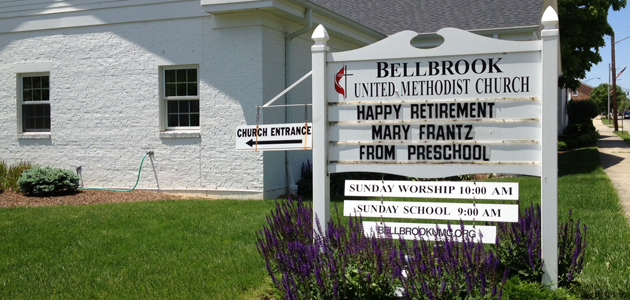 By Eric Frantz, BellbrookEagles.com Publisher
The Bellbrook-Sugarcreek School District serves nearly double the students it did when Mary Frantz started on the school board in 1989.
Accolades have accumulated almost as fast.
During a span that touches four decades, Frantz's fingerprints are all over the district. Few, if any, have had as big a hand in guiding Bellbrook from a small rural system into one of the country's top public schools.
I'm biased. I'm her son. But I'm also on point.
Frantz started as director of Happy Child Preschool in 1988. She retired from that position this week. Twelve years from now her last preschool class will graduate from BHS. Her reach will extend even longer.
Over the past 12 years, Frantz has served on the Greene County Career Center BOE and was president in 2011. In 2010, she was inducted into the Greene County Women's Hall of Fame.
Frantz, who graduated from Delaware Hayes High School and Ohio University,  moved to Bellbrook in 1978 with her husband Tom, who worked as a civilian at Wright-Patterson Air Force Base. She began making an impact immediately.
Frantz started helping with the Sugar Maple Festival in 1980 and is still active on the committee.
At the Bellbrook United Methodist Church, Frantz is a lay minister in charge of education and served over 10 years in the church's Common Cup Ministry. She'll remain active with the church in retirement.
Did we mention she's the Bellbrook-Sugarcreek Schools Board of Education President?
Let's call it icing.
With Frantz on the BOE, the Bellbrook-Sugarcreek School district has overseen construction of a new high school and middle school and extensive upgrades of the intermediate and elementary schools. The high school sports stadium has also been upgraded.
Academically, the explosion has been even more immense. BHS is currently recognized as one of the top public school districts in not only the state, but the country by respected organization's Newsweek, the Washington Post and U.S News & World Report.
Frantz is one major reason why.
___________________________________________________________________________________________________
Excerpt from Fall 2012 Bridge
Mary Frantz has been selected as one of five 2012 Outstanding School Board Members by the Ohio Association for Career and Technical Education (Ohio ACTE). Greene County Career Center (GCCC) Superintendent Dan Schroer said that Mrs. Frantz has been instrumental in many of GCCC's initiatives.
The purpose of the Ohio ACTE Outstanding School Board Member Award is to recognize a duly elected or appointed board member who has made the highest meritorious contributions to the improvement, promotion, development and governance of career technical and adult education in Ohio.
For the past 11 years, Mrs. Frantz has served as a GCCC board member from the Bellbrook-Sugarcreek Schools Board of Education. Last year she served as board president; and with her leadership and participation, the school has garnered several major accomplishments.
Mrs. Frantz helped to create a strategic and visionary plan to promote significant advancements in student-performance improvement. She was instrumental in developing both Business Technology and Family and Consumer Science programs at Bellbrook High School, and led the efforts to bring Nurse Assisting to GCCC and move Biotechnology to Xenia High School. She also spearheaded the expansion of adult workforce education to a south campus in Bellbrook.
In 2011 she was a board leader when GCCC purchased 49 acres and a barn and transformed it into an equine facility for future Veterinary Science and Equine Science programs.
Mrs. Frantz was also instrumental in furthering the mission for all GCCC students to perform community service. High-school students completed over 6,000 hours of service during her presidency.